The Detroit, Michigan area, where I live, is home to the the largest Arab and Muslim population outside of the Mideast. Cultural differences, particularly around gender roles, are often at the heart of misunderstanding and discomfort many Americans struggle with.
Our terrific Detroit NPR Talk Show host, Craig Fahle, led a courageous and fascinating conversation this week about the changing roles of Muslim women.
I was honored to be part of the discussion with Wayne State University experts Dr. Saeed Khan and Layla Saatchi. My perspective was that of a Western-educated, American who has just returned from a global women's leadership conference -- focusing on the future of the Arab world -- held in Rabat, Morocco.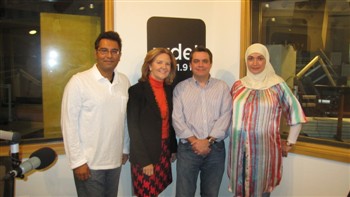 That's Craig and me in the middle! Click here to listen.